83

EMPOWER Test Prep Users
Reported 90 Percentile+ This Month

337

Top Scorer of the Month


291 to 332

Most Improved This Month

You can prep for the GRE® Test for $49 (in your pajamas)Prep for the GRE® Test that's easy to use, affordable, and effective
EMPOWER Test Prep is a comprehensive on demand test prep course for the GRE® Test, meticulously crafted by a team of all-star GRE® Test coaches. Take the stress, monotony, and expense out of earning a score on the GRE® Test that will help get you into grad school.
Master The GRE® Test At Home
Imagine having access to an on demand team of GRE® Test wizards, who could inspire you to beat every aspect of the test. Now you don't have to settle. Get $1500 caliber on demand prep for even less than budget courses.

Every topic, and every single question in the course is followed by an expert video breakdown. It's like having a virtual tutor to train you how to tackle everything on the GRE® Test.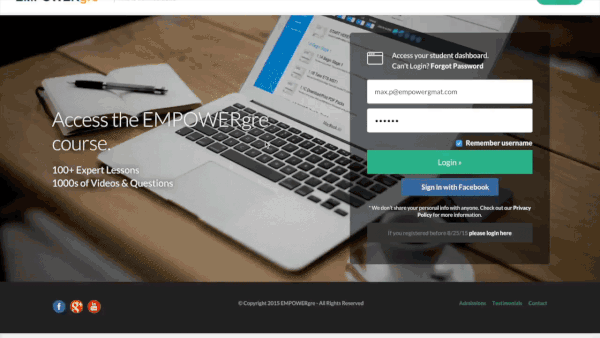 6 Study Plans & A Powerful Platform
Stay on top of your progress with an intuitive, choose-your-own study plan syllabus. Follow your study plan, and watch your course progress grow.

Track your section-by-section growth with an informative dashboard that tracks your accomplishments.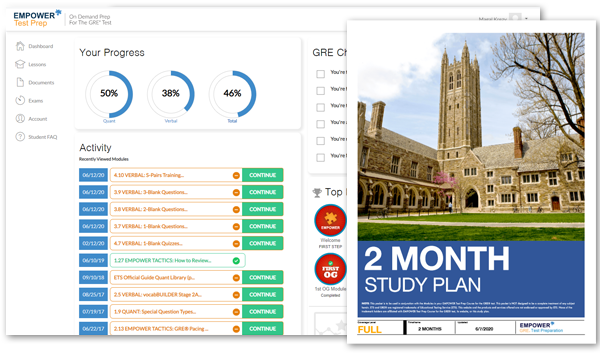 Action Speaks Louder Than Words. Your Training Is Backed By The Best Performance Guarantee On The GRE® Test
Beat your prior GRE® score, or EMPOWER Test Prep will refund your first month of prep + an EXTRA $50! Cancel your score? Get a month of EMPOWER Test Prep on the house.
Or Full Month Refund + $50
90% Off Old-Style Prep
EMPOWER Test Prep is an On Demand platform, with low-overhead. Instead of paying an army of executives and marketers, we trimmed the fat, and have created savings revolution.

Now you can have a course as powerful as those that cost over $1000, for $49. No wonder why so much of our growth has come from word of mouth.
Compared to traditional mass-market prep
Join tens of thousands of EMPOWER Test Prep users in 173 countries
When a course this affordable works this well, it doesn't make sense to pay more for less.
Your first 24 Hours
are on us.
We want to make sure you know that EMPOWER Test Prep is right for you. Sign up for a Full Account, and if you're not convinced it's for you, cancel. It's free.
Just go to Account > Cancel Account.

— The EMPOWER Test Prep Team
OR TRY FREE ACCOUNT
Free Account
No Credit Card Required
Get Instant Sample Access
5 Lessons + 100 Videos
Fast EMPOWER Advisor Email Support
No Expiration
Try it FREE for an hour
No credit card required.
Try EMPOWER Now
*No Credit Card Required